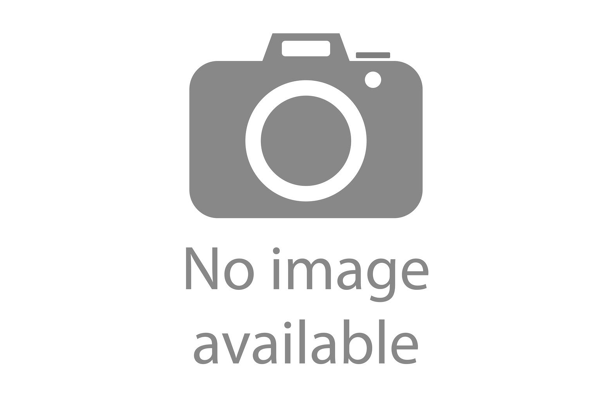 EOS is similar to Ethereum because it is a platform for developing decentralized applications or dapps. But it is different from its most prominent competitors because it provides users with an environment that is much like an operating system in itself. There are many built-in and readily available services and features that developers can take advantage of and focus completely on creating the best application possible.
What is EOS?
EOS developers and founders hope to create a blockchain platform that allows developers to create dApps freely. They hope to create a platform that can scale horizontally and vertically to millions of users, and aims to provide an environment that provides useful services and functions, such as cloud storage and server hosting.
Developers can use authentication systems to allow users to access accounts with different levels of authority. You can also choose to store user data on a local machine away from the blockchain. This, along with other authentication and identity verification methods, can help recover lost or stolen accounts. Cloud storage and server hosting allow developers to focus on application development without worrying about storage space. Scalability is not a problem, because EOS is committed to reaching consensus on events, not on state methods. Although it may take longer to reconfirm the history of all transactions when the system is restarted, it greatly improves throughput.
There are many ways through which EOS tokens can be acquired to be able to access tools and resources needed to build decentralized applications on the EOS blockchain.
Step 1: Get a Wallet
Unfortunately, there are no EOS wallets. However, as an ERC-20 token, EOS can be held in any ERC-20 compatible wallet. For this demonstration, we will be using MyEtherWallet, which is an open-source wallet that is highly security-minded and allows for the storage of your private keys on your own computer.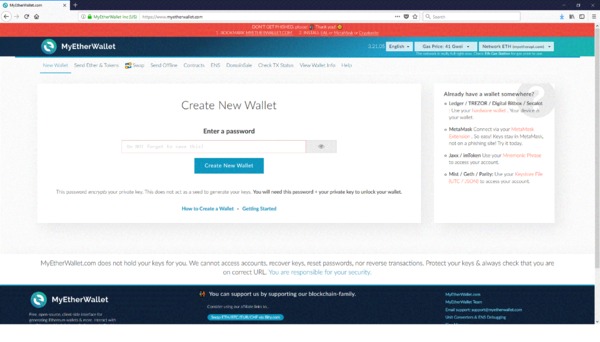 To start, go to MyEtherWallet.com. Go through the FAQ. Come up with a password that you will remember. This will be the encryption key for your private key; if you lose it, your wallet will be inaccessible. Make sure that you keep your password written in multiple places. Click "Create New Wallet."
Download your keystore file. This holds your private keys and cannot be recovered if lost. It is advisable that you keep a backup on a USB drive or flash drive and keep a copy on your computer. Once done, press "I understand. Continue."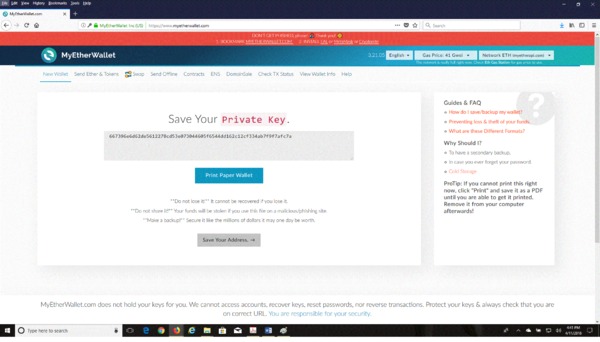 Write down your private key. As with your password, secure it. It may be a good idea to print a paper wallet or two. Go on to "Save Your Address."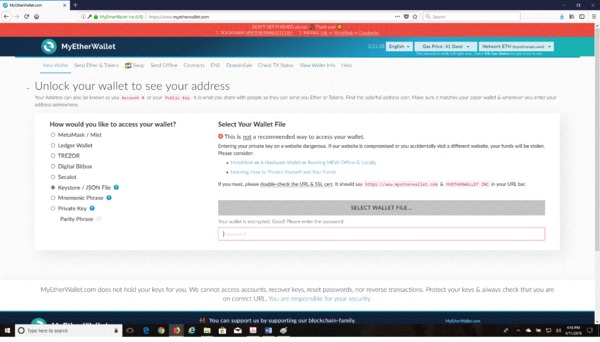 Using your private key or keystore file, retrieve your wallet address. You will need to use your password to decrypt it.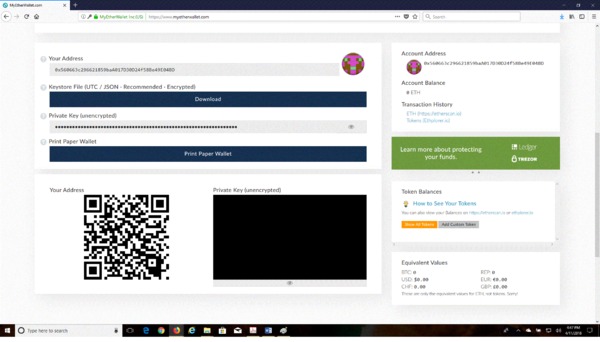 Scroll down to see your address. Make note of it and move on to step two.
Step 2: Get EOS
EOS is unique in that the entire distribution of EOS tokens will be distributed over a one-year period. With no mining involved, this theoretically opens the door to those that do not want to invest in mining equipment. Unfortunately, the token sale at www.eos.io is not open to U.S. citizens or citizens of countries with securities rules similar to the United States.
Fortunately, EOS is available on many exchanges, such as Binance, Kraken, HitBTC, ShapeShift, Bithumb, and Bitfinex. We will be using HitBTC for our example. EOS will need to be purchased with a major altcoin, such as bitcoin, Ether, or bitcoin cash. This guide will assume you know how to convert fiat currency into an altcoin. HitBTC allows for bitcoin buying via credit card.
This process assumes that you are familiar with placing exchange orders. If you are not, you can check out our guides on exchange orders or select a different exchange from which to buy.
Sign in/register for HitBTC. You should be brought to the exchange page. Click "deposit." Open in a separate window the wallet of the coin you will be using to buy your EOS coins.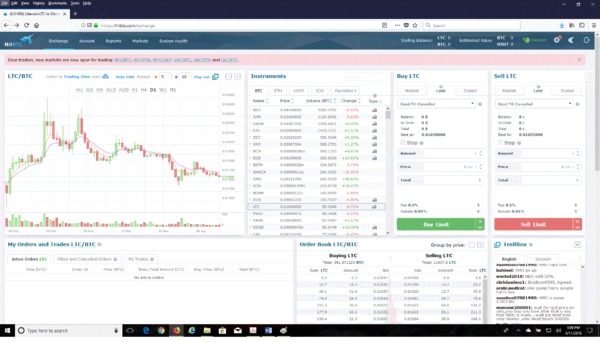 Click on the currency you wish to deposit for the purpose of buying EOS. Copy the wallet address and use it to do a buy transaction in your depositing currency's wallet. Deposit only what you wish to use for your EOS purchase. Go back to the exchange page.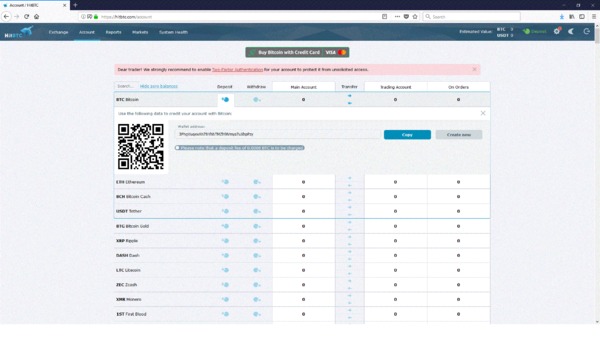 Under "Instruments," click "EOS." Go to "Buy EOS." If you wish to buy using a limit order, click that tab. If you want a direct buy, click that order. You can click here to learn more about buy orders. Enter the amount of EOS you want to buy and the maximum you want to pay (if using a limit order). Select "Good-Till-Cancelled" if you want to buy the coins no matter what. Select "Immediate-or-Cancel" to let the order process with any portion that is immediately available being purchased. The remainder of the order will be canceled. Select "Fill-or-Kill" if you want the order immediately filled in its entirety or canceled. Select "Good-Till-Date/Time" if you want to set an expiration time on the order. Finally, select "Day" if you want the order to be vaild only for this trading day. Hit "Buy."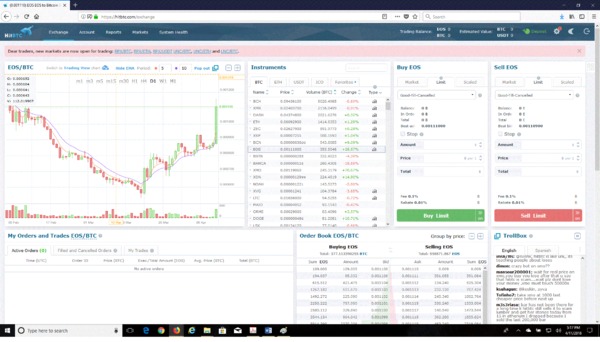 Go to "Accounts." Click on "EOS" and then "withdraw." Enter the amount of EOS you just bought and your ERC-20 wallet address. Click "Withdraw."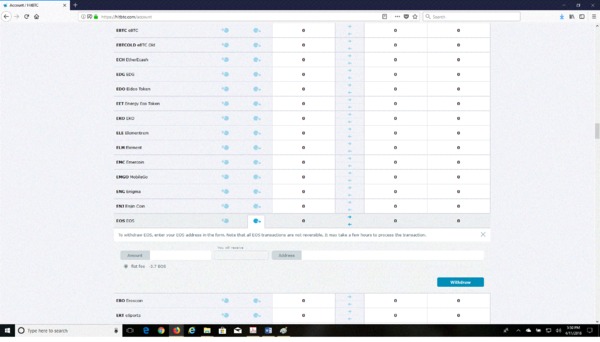 There you have it. While the process to purchase EOS is a bit more complicated than buying bitcoin, it still only takes a few steps to perform a transaction.
Conclusion
EOS is a cryptocurrency that has attracted much attention in the market and development field. A service that is free to use and can scale to approximately millions of transactions and operations per second has a huge promise.
Although all of this may come true, there are still many unknowns about this currency. Developers need it because they need EOS tokens to pay for their dapp and the services they use on the platform.
By reaching a consensus on the event, the throughput will become better, which provides EOS with strong support and support from the crypto community.